How do you deal with distracting compositional elements? The easy answer is to just remove them. But that's not always possible. It's also not always possible to simply exclude them from your final image either by cropping or by shooting from a different perspective. What if excluding the distractions makes the scene seem unreal?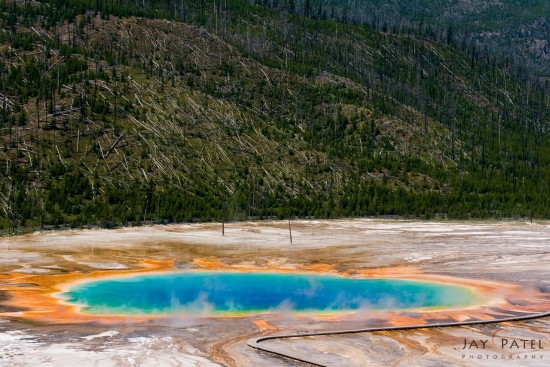 Take a look at the Grand Prismatic photo above. The boardwalk included in this photo is an integral part of the image because every visitor uses it to view the magnificent hot spring. Without the boardwalk, the photo would be unreal. THIS is the reason I choose not to clone out this compositional element.
Here are some other reasons why a compositional element cannot be easily removed from your image.
Out of Reach Objects
It would have been impossible to capture this scene from this angle without including at least a part of the Dancing Tree on the left. Instead, I made it a part of the composition by placing it and the mountain using the rule of the thirds. I chose my focal length carefully so that both the mountain and the tree were similar in size. I used the river as a line to lead the eye towards the mountain.
Restriction of Movement
Places such as Yellowstone restrict your movements. It may be quite impossible to get the best possible composition. In this case, we tried to include elements that are present at the location to make for an interesting photo. When I saw these spectacular beams of light, I decided to include the exploding geyser to add an interesting element to the photo.
Man Made Objects
Boardwalks like the one you find in Yellowstone often pose as distracting elements. Sometimes it's possible to create an interesting composition by including these elements as part of your image. Above are a couple of examples where I used man-made objects to create interesting compositions.
So… the next time you're faced with the question of how to deal with compositional elements, why not make them a part of your composition?