The beach is one of my favorite subjects to photograph. I live on the island of Kauai, so I find that 80% of my images can be classified as beach photography. Since there are some special considerations to make while photographing a beach scene, I want to share some tips on equipment, time of day, exposure, and creativity.
Equipment
For beach images, I find that my wide-angle lens is my workhorse. I suggest purchasing an ultra-wide lens of your choice. I use Canon equipment so the 16-35mm L was my number one choice. On the rare chance I get to borrow someones Nikon gear, I use the 14-24mm. Its always a good idea to carry a few extra lens options with you. If something in the distance (like a breaking wave) peaks your interest, a zoom lens would be handy. You may also come across an intimate abstract scene. I also carry a polarizer to reduce glare and to bring out the rich colors in the ocean or sky.
Time
Sunrise and sunset are my favorite times to photograph the beach. I love the warm light the sun casts on the sand. I also find there is a high demand for mid-day beach photos. The bright blue sky and  water tropical scene is purchased more often than not. These are the images you see on the cover of travel magazines. There is no right or wrong time to photograph a beach scene. Do what makes you happy or what sparks your creativity interests. My bright blue mid-day stock photography images have sold more than my creative, artsy, sunrise/sunset seascape images. Although I have them for my portfolio, I'd still much rather be out at sunrise or sunset.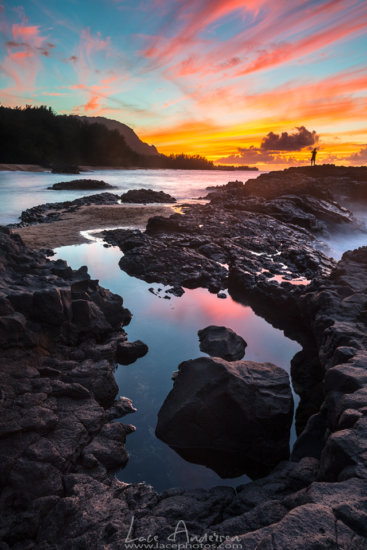 Exposure
Slow shutter speeds – I love the dreamy water movement in beach photographs. The water motion drags the viewer's eye through the image. I like to head down to the beach early and just walk around and watch. I watch how the water moves and flows around rocks. I look for standing water pools for reflections. I check the tide charts for super low tides that expose the rock reefs that are usually hidden – these make for unique compositions. I look for shapes and patterns that the water creates as it moves across the sand.
Fast shutter speeds – For exploding waves against the rocks or shoreline. Sometimes it's fun to freeze that motion for a strong impact. As you are scouting around, watch for scenes of dramatic interaction between the sea and land.
Creativity
Finding your creative mojo is a topic all to itself. In regards to beach photography, I like to ask myself, "How does this scene make me feel?" That usually helps me to narrow down the techniques I should use. It also directs my post-processing decisions. The scene can be more warm or cool depending on how it makes me feel.
Photography is, in a sense, therapy. If I'm feeling jovial and exuberant, then my choices are bright and colorful. There is usually a bunch of water action and motion in those shots as well. If I'm feeling sad or dreary, then my images seem to be a little darker and moody.